Powered by
House Cleaning London Ltd.
Call us now on:
020 3455 5999
Second line 020 3026 6227
Bromley > Renovation Services
Professional refurbishment and renovation services in Bromley
The importance of reliable renovation and refurbishment services in Bromley should never be underestimated. In order to get stunning final results, homeowners and business holders have to hire trustworthy refurbishment specialists or renovation contractor in Bromley. We at Bromley Cleaners London are definitely the right partner who will offer you all in one property renovation solutions. Our property refurbishment experts will provide you professional assistance every time you have to renovate your residential or commercial building. With many finished DIY projects as well as professionally painted and refurbished buildings in Bromley we are proud to deliver exceptional quality to all our commercial and residential clients.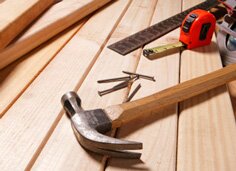 Hire us for your professional refurbishment company or renovation contractor in Bromley and ensure yourself a hassle free property renovation! Save precious time, efforts and guarantee yourself amazing final results! By booking a residential or commercial renovation in Bromley, you will get not only competitive prices but also specially tailored service which suits your personal requirements. We could cover both standard Bromley renovation service as well as any additional procedures upon clients request.
In order to provide you the most lucrative and precise estimations, our renovation and refurbishment specialists will conduct a preliminary examination of the premises, that need to be taken over. This expert viewing will give us details about all the necessary supplies, machinery and tools that needs to be used during the painting, renovation or refurbishment. Of course for our customers' convenience all the visitation will be provided according to your availability
Get in touch with us on 020 3455 5999 to receive more information about our experienced or refurbishment and renovation services in Bromley! Our kind and helpful assistants will answer to your questions and will arrange your commercial or residential renovation services!
Top notch renovation and refurbishment company in Bromley!
Hire us for your Bromleyrefurbishment specialist or renovation contractor to take advantage of the following aspects:
All the refurbishment specialists who will provide your Bromley renovation service are certified, well-trained and insured. Our Bromley renovation company always meet the deadlines.
We will assist you during the entire process of renovation, refurbishment or painting, answering all your questions and give you advices for property maintenance. Our Bromley renovation and refurbishment specialists will pay attention even to the smallest details and will show high level of respect for you and your property. 100% customer satisfaction is our top priority.
Paint and all the additional building materials and machines, that are used for the property renovation are is purchased by accredited manufacturers. We count on durable and high-quality paint in order to ensure quality of the provide services as well as excellent final result
We give you the flexibility to choose the paint and the materials which we will use. All our customers are free to provide the necessary paint by themselves too.
As an experienced refurbishment and renovation contractor in Bromley, we have worked with various types of customers - ordinary home owners, landlords, business holders and even property management companies. During this process, we have always complied with safety standards and current condition of the premises.
Contact us on 020 3455 5999 and book a Bromley renovation service with us! Take advantage of our competitive and reasonable prices. and do not postpone your property renovation, because our reliable renovation company in Bromley is always on your assistance.