Powered by
House Cleaning London Ltd.
Call us now on:
020 3455 5999
Second line 020 3026 6227
Bromley > Painting Services
Professional painting and decoration in Bromley
Every interior painting and decoration procedures require expert approach, professional tools and supplies. As an experienced painting contractor in Bromley, we don't recommend DIY projects in order to avoid failure. Exigent and provident home owners always hire dependable Bromley painting company. If you rely on Bromley Cleaners London, you are guaranteed to get stunning final results without losing your precious time and without putting any efforts. The flawless condition of ceilings and walls is very important for every property. Sometimes besides providing the Bromley painting service, additional procedures should be accomplished - for instance, plastering or removing wallpapers. Our customers should be aware, that all specialists who work in our trustworthy painting company Bromley are certified, insured and vetted. They possess all the necessary skills to achieve magnificent final outcome. In case your walls and ceilings have never been painted before, our Bromley painting experts will apply some extra layers of paint. Some additional preparations will be also necessary. All the expenses for the preparative materials (sandpapers, dust sheets, tape, filler hardeners) are included in the final quote. Our painting services Bromley are very convenient and specially tailored to suit your personal needs and requirements.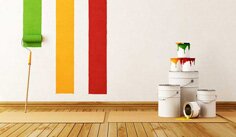 Hire us for your Bromley painting contractor and solve all your problems with pale and peeling paint. Improving the living conditions in your home or office is easy and affordable with our painting company in Bromley. All the details concerning your Bromley interior painting procedure will be discussed in advance. There will be no unpleasant surprises or misunderstanding if you choose us for your dependable Bromley painting contractor. Moreover - a preliminary examination is strongly recommended. This visitation will ensure important information for our Bromley painting experts. They will get to know the current condition of the premises and they will define all the necessary procedures, tools and supplies. Thanks to this expert view in advance, customers receive profitable and precise quotes. The visitation will be performed when the time is convenient for you, because our painting company Bromley is very flexible.
Call us on 020 3455 5999 and share more details about your painting project! Take advantage of our residential or commercial painting services in Bromley and get amazing results!
Choose our Bromley painters and decorators
If you still hesitate whether to start a DIY project or to book our professional Bromley painting service, check out more details and make the best choice:
The paint, used for our interior painting Bromley, is provided by certified manufacturers and has guarantee for the highest quality. Our experts are ready to provide all the necessary paint. However, your final confirmation before selecting the brand will be required. White paint is usually delivered by our Bromley painting specialists as they always show clients the receipt. Color paint may be ensured by customers, but we recommend you not to take unnecessary risks and to rely on our professionals. Our painting specialists Bromley will explain to you important details about the various types of paint and the price offers.
During all these years of hard work as painting contractors in Bromley, we have met different clients with diverse preferences and requirements - small business holders, big property management companies, ordinary home owners, landlords, etc. All of them have been satisfied from the provided commercial or residential painting services Bromley.
Our experts meet deadlines and guarantee excellent organisation of the Bromley interior painting procedure. They are also very kind and responsive and always comply with customer's personal demandings.
Contact Bromley Cleaners London on 020 3455 5999 and book a commercial or residential painting service Bromley!